What's your favourite kind of puzzle? Are you a sudoku aficionado? Perhaps it's mazes that float your boat? Or maybe a bit of word search gets you going? Can't decide? Then have we got the book for you!
One of the things Puzzle Genius is known for is the generous size of our puzzle books. Even our popular Pocket range pushes the boundaries of the page to bring you the biggest grids possible in the compact space. Our Jumbo range of books are Jumbo in every sense – big puzzles and lots of them.
But sometimes you need to go even bigger. Which is why we are excited to announce our new Large Print puzzle book range.
Our Biggest Puzzles Ever
We're kicking off with two extremely popular puzzles: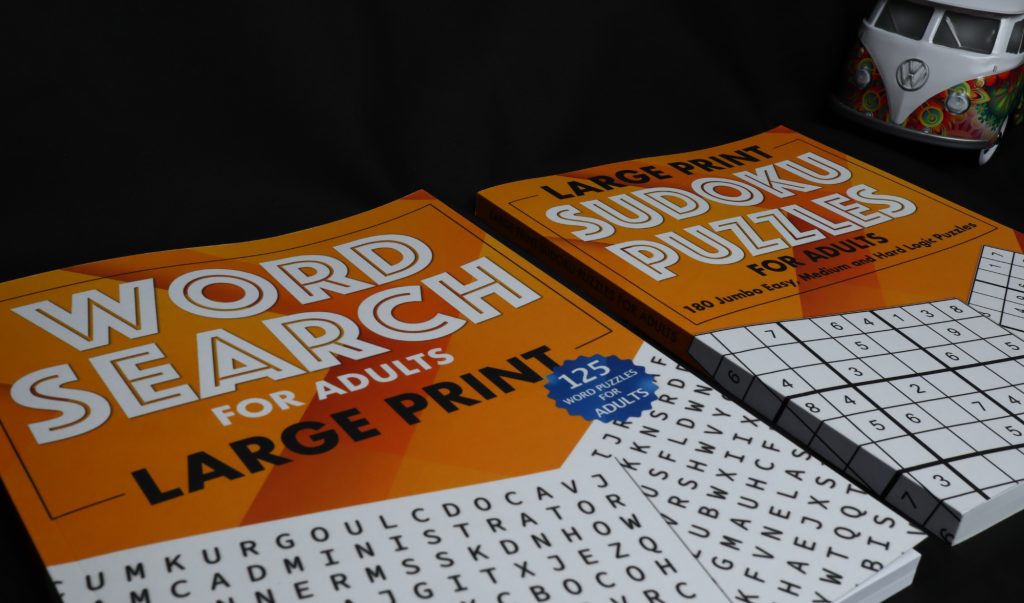 Both books are 8"x10" format, and they both push the size of the puzzles to new limits. They are ideal for anyone who needs bigger text – whether that be due to less than perfect vision, tired eyes, or quite simply a preference for easier-to-read letters and numbers.
Puzzle Genius Quality
Just because we made the puzzles bigger, doesn't mean we cut any corners. You'll find both books have bee meticulously crafted to our usual high standards, beginning with the puzzles themselves.
Large Print Sudoku Puzzles offers no fewer than 180 brand new grids, over three levels of difficulty (60 each of Easy, Medium, and Hard). Plus we've put a couple of bonus puzzles at the end, to extend your enjoyment and mix things up a little. Of course, full solutions are included for every puzzle.
Word Search for Adults: Large Print is filled with 125 classic word search puzzles, comprising a total of 3000 words to find! Each puzzle is themed, by topic or letter groupings, offering a wide variety of challenges. And because we love word puzzles as much as you do, we've added some bonus Word Finder puzzles at the end of the book. Naturally, you'll find a complete set of solutions in the back, too.
Out Now
Both books are available now:
Sudoku is great fun whatever your age. But when it comes to younger people, this classic logic puzzle can be a fantastic educational tool. Like all the best learning tools, sudoku works well precisely because it is so much fun to play. Kids learn best when they are enjoying themselves, and sudoku has a lot to teach — and not just about numbers. Indeed sudoku, whilst traditionally using numbers, is not a math game. But it has a whole lot to teach.
At the bottom of this page you will find some free sudoku puzzles designed specifically for kids, that you can download and print out. But first, here are seven incredible benefits of using Sudoku as a learning tool.
1. It Reinforces Figure — And Letter — Recognition
Right from an early age, very simple kids sudoku puzzles are an excellent way to promote and reinforce the recognition of number forms. Even the simplest 4x4 puzzles are great at this.
By turning recognition into a game, the child is not only gently encouraged to differentiate between figures, but because they must find missing numbers, they will naturally create figures in their mind's eye. This mental creation of numbers strongly reinforces the forms.
Of course, sudoku doesn't just have to be played with numbers. Letters can be used instead, adding more learning opportunities. We've included both number and letter variants in our free downloadable kids sudoku puzzles at the bottom of the page.
2. It Teaches Problem Solving Skills
The aim of sudoku is to work out the missing numbers in a grid. The whole game is a puzzle that is crying out to be solved, so naturally playing it encourages and develops problem solving skills.
This can be done as gradually as necessary. A simple grid with a single missing number might seem to be so easy as to be pointless, but it's like a gateway drug. When a child works out the missing figure, they experience a rush of excitement at having solved the problem; they are primed to solve more.
Building up the difficulty slowly and steadily maintains the challenge. The child is obliged to add a little more effort every time, and think up new ways of finding the answer — and being rewarded with the dopamine hit that comes with success.
As puzzles grow in size, complexity, or both, the child will have to find new ways to solve them. Thus what started as an easy game can soon become a fun and rewarding exercise in lateral thinking.
3. It Promotes Teamwork
Larger sudoku puzzles (typically full-size 9x9 and above) are a fantastic tool for encouraging working within a group. Puzzles can be split into racks and stacks, or columns, rows, and blocks, and each piece assigned to one or more children.
With a simple grid, the kids may initially solve the puzzle by working individually on their own portion. But ramp up the difficulty even just a little, and before long they will be obliged to co-operate and communicate to ensure their solutions do not 'collide' with those of the others in the group.
Take the difficulty up another notch, and the team will be encouraged to work together to come to a solution for the puzzle, pooling their techniques and knowledge.
For larger groups or older kids, try using 16x16 grids, or even better, Samurai Sudoku. The latter is a 'multi-sudoku' game with interlocking grids — perfect for splitting up and working on as a team.
4. It Encourages Attention to Detail
In a sudoku grid, a single mistake inevitably leads to disaster. Just one number out of place renders the entire puzzle unsolvable — not that it's always immediately obvious!
It only takes a few failed solutions for most children to learn that they must check and double-check their answers before writing them in the grid, thus promoting careful attention to detail.
5. It Expands Memory
Logic is essential in solving sudoku, but so is memory. As they work through a grid, a child will be constantly putting numbers into very short-term memory, sometimes for just a few seconds at a time.
Sudoku is a great workout for the brain. Just as concentrated exercise can improve overall fitness, so working short-term memory improves overall memorisation and recall skills. Speaking of working out the brain…
6. It Improves Focus & Concentration
Sudoku demands a level of concentration that just isn't necessary for most other kinds of puzzles. Simple math games, crosswords, word searches and so on, can all be done piecemeal by dipping in and out as and when. But to solve a sudoku grid effectively, it's necessary to hold a lot of information in short term memory at once.
Losing focus, or lacking concentration, leads to mistakes or quite simply not being able to find a solution. Therefore the child is obliged to put all their attention into the job in hand. Studies show that concentration is like a muscle, and that repeated training leads to long-term improvement.
7. It Builds Confidence
If you've completed a sudoku puzzle then you know the rush of satisfaction that comes with putting that final number in the grid. One of the amazing things about sudoku is the range of difficulty that can be applied to a single concept. A child can learn the basics on a really easy 4x4 grid in a matter of minutes, yet be constantly challenged and stretched by the exact same set of rules right up to mind-bending super difficult 16x16 grids. Every win is an opportunity to boost their confidence and self-esteem, all whilst having lots of fun.
Download Free Sudoku Puzzles For Kids
Now you know why sudoku is such a great learning aid, as well as being a fun game, here are some grids that we have prepared especially for children.
We've included three grid sizes: 4x4, 6x6, and regular 9x9. There are eight 4x4 puzzles, and twelve of each of the larger sizes (which also include letter-based variants). Full solutions are of course also included.
The pages have been formatted so they will print on both American letter paper, as well as standard A4.
Looking For More Puzzles?
We've got you covered! We publish a brand new free puzzle every day. And of course, we have a large range of sudoku puzzle books of varying difficulty and size.
For kids sudoku, we highly recommend Amelia Baker's range of books, which we collaborated on. You can find out more about those here. Amelia's books include excellent tutorials written specifically for younger players, and lots of puzzles from 4x4 to 9x9.
We are delighted to announce the publication of two new books in the popular Felix Linklater Presents… series:
Giant Edition
We've taken everything you love about Felix's Very Hard Killer Sudoku book and super-sized it. We shut Felix in the basement and told him he couldn't come out until he had prepared a whopping 600 brand new difficult and very difficult killer sudoku puzzles. Then we put them into an 8.5x11" book to maintain the large grid size we know you love.
Pocket Edition
Bigger isn't always better; whilst we know our big grids are popular, we also know how important it is to have a puzzle at hand wherever you are. That's why when we finally let Felix out of the basement, it was on the condition he supplied another 100 puzzles for a pocket edition.
At 4x6", this small but mighty book slips into any pocket or purse, so you never need be without your favourite logic puzzle.
Regular Edition
The two new sizes join the regular edition, meaning there is a size to suit every occasion. And with unique puzzles in each of the three volumes, you can be certain to find a fresh challenge every time.
Out Now
The new books join the rest of the Felix Linklater Presents series (which includes regular sudoku, samurai sudoku, and 16x16 sudoku) and are available now, from Amazon:
Killer Sudoku! We love it. You love it. It's one of our most popular puzzles. And now it's joining our Jumbo range. Introducing The Jumbo Book of Killer Sudoku.
Who Says You Can't Have Quality And Quantity?
Here's the lowdown on what makes this brand new two-volume set so fantastic:
600 Puzzles. Yes you read that right. Each volume contains a whopping 600 killer sudoku puzzles!
Six Levels. Choose from Easy to Intermediate, or Intermediate to Hard. One hundred puzzles per level means you'll always find something pitched just where you want it.
Big grids. Our Jumbo series is big in every way. Big grids on big pages, and loads of them. Fitting in notes and candidates should never be part of the challenge, which is why we've made our grids so roomy.
Bonus puzzles. Because we love puzzles as much as you do, we've added some extras at the end. You'll find some regular sudoku grids plus a selection of suguru puzzles as well.
Full solutions. Checking your completed grid takes seconds when you have full solutions at the back.
The Jumbo Series Just Got Bigger
The Jumbo Book of Killer Sudoku is part of our wider Jumbo series. Fancy something different? We've got you covered, with Jumbo 16x16 Sudoku, and Jumbo Samurai Sudoku as well.
Out Now
Both volumes are available now from Amazon:
We all deserve a little luxury in our lives. Whether it be a velvety fine wine, a long soak in a silky bubbly bath, or a tasting menu in a Michelin starred restaurant, who doesn't want to indulge themselves a little every now and then? Indeed now more than ever it feels like enjoying some 'me time' is perfectly justified.
That's why we are so delighted to present our latest sudoku puzzle book series — Luxury Logic Puzzles.
This four-volume set epitomises our mission: to create puzzle books for people who love beautiful things.
From the classic, elegant covers to the richly decorated pages, everything about these books is simply gorgeous. We are even making the whole set available in hardcover editions, offering unrivalled refinement as well as protection for the precious grids within.
Of course we also included all the other features that make every Puzzle Genius book a beautiful object:
Large grids, because space is the ultimate luxury. We believe the challenge of sudoku should be in solving the puzzle, not trying to write tiny candidates and answers.
Splendidly decorated pages, with a delightful and classic theme uniting the series.
Hard and very hard puzzles for the discerning and practised puzzler who doesn't want to waste space on easy grids.
Extra puzzles in every volume to add a little spice and variety.
Complete solutions to make checking answers a joy rather than a chore.
There are four books in the series, and each one is available in classic paperback as well as hardcover editions:
Looking for a handy sudoku reference that you can print out and keep? Look no further! Our printable sudoku rules are just the ticket. Download the PDF below and print at home (or at work — we won't tell your boss if you don't!)

The PDF has been formatted to print nicely both on international A4 and US Letter paper.
Sudoku For All Levels
Don't forget that Puzzle Genius offers sudoku books for players of all levels. Be sure to check out the whole range here.
Today we are delighted to announce not just a new book, but a whole new series. Specially designed for the most ardent and experienced puzzler, the Felix Linklater Presents collection is launching with four volumes of very difficult puzzles.
Lucy Baker, our website editor, caught up with Felix himself to get all the juicy details on this brand-new series.
Lucy: Felix, hi! Perhaps you could start by introducing yourself?
Felix: Hello! Sure. I'm Felix Linklater, and I'm the senior logician and puzzle editor here at Puzzle Genius. I'm essentially in charge of selecting the puzzles that make it into all of our books.
Lucy: So it's fair to say you know your way around a logic puzzle?
Felix: Logic puzzles are literally my life. When I'm not working hard on a set of puzzles for a new book, I'm usually found solving them.
Lucy: That's why you get called logic-meister in chief around the office.
Felix: I take that as a compliment.
Lucy: Rightly so! We're all puzzle lovers here. So tell me, what was the inspiration behind the new series, Felix Linklater Presents?
Felix: Since our inception, Sudoku has been one of our most popular puzzles. Not just the regular game, but the variations too. Particularly Killer Sudoku. We've always strived to cater to a wide audience, publishing editions covering levels from beginner to advanced. But we wanted to create a new series of books that was aimed squarely at the advanced puzzle solver — the sort of person who skips ahead to the most difficult puzzles in a book. People like us, in other words.
Lucy: So you wanted to make something like our Pocket Sudoku Extreme series?
Felix: Yes, exactly. That's a great series and I'm very proud of it. But we wanted to go beyond the pocket format. That's why this new series was born. We've put hard and very hard puzzles into a medium-format edition and imbued it with everything that makes Puzzle Genius books so beloved. These volumes are around six by nine inches, or around 15 by 23 centimetres. It's a size that's much easier to carry around than our Jumbo editions, but it still gives us the space to publish the bigger variants like 16x16 Sudoku.
Lucy: And Samurai Sudoku, which is one of my favourites. What else is different about these books?
Felix: Firstly, and most importantly, the puzzles are hard. We've labelled them as one and two stars, but it's important to know that even the one star level is at the top end of anything we've published before. These are definitely not beginner grids. For the Samurai Sudoku and 16x16 Sudoku books we've put a single grid on each page. We all know how important it is to leave room to note down candidates and exclusions.
Lucy: Yes, we always say that writing in the grid should never be part of the challenge. If you want to get into precision pencil work, get a colouring book.
Felix: Right. Our job is to present the best possible puzzle in the best possible way, and everything we do is geared around that. Then we add some bonus puzzles, because who doesn't like an extra challenge? It's a great way to discover new variations that you perhaps haven't tried before. And of course we include solutions for every puzzle in the back of the book.
Lucy: Again, of a decent size. Nobody wants to have to go find a magnifying glass to check their answers. What books is the series launching with?
Felix: We've launched with four volumes: Very Hard Sudoku, Very Hard Killer Sudoku, Very Hard Samurai Sudoku, and Very Hard 16x16 Sudoku.
Lucy: Do you have a favourite?
Felix: That's like asking me to pick a favourite child. I might have one, but I'd never admit it! Seriously though, we've put an enormous amount of work into these books, selecting excellent puzzles and presenting them in the best way — exactly as we do for every puzzle book we publish.
Lucy: Well the books look amazing, and I'm not just saying that because I work here! I've already sneaked a couple home and have been working my way through them. They're not for the faint-hearted!
Felix: Thank you. I really hope people get as much enjoyment from these new puzzles as we have.
Out Now
All four volumes of the Felix Linklater Presents series are available now, from Amazon:
Do you need high-quality puzzles for a publication, or for education purposes? Puzzle Genius can help.
Puzzles have been a staple of newspaper and magazine publishing since the industry has existed. Early versions of crossword puzzles began appearing in print in the 19th century. Number puzzles also made their print debut in the late 1800s, when Parisian daily Le siécle began publishing magic square puzzles — a predecessor to modern sudoku.
There are good reasons why publications large and small continue to print puzzles like sudoku, even in this age of digital entertainment. As well as adding value and diversity, they have been shown to build reader loyalty and engagement. Puzzle-solving is habit-forming — and what publisher doesn't want to get their readers into the habit of returning day after day?
Puzzle Genius can provide high-quality logic puzzles for your publication or education needs. We can supply artwork in a variety of formats to suit print or on-line use.
Our most popular puzzles include:
Sudoku
Sudoku variants including 6×6 sudoku (ideal for education), extra-large 16×16 sudoku, samurai sudoku, flower sudoku, wordoku, and more.
Killer Sudoku
Suguru
Minesweeper
Hashiwokakero (also known as Bridges)
Number chains
Mazes
All our puzzles are available in multiple levels of difficulty. We can supply in bulk or on a schedule.
Every puzzle is unique.
Pricing is flexible, and some puzzles may be made available at no charge under certain circumstances.
Want to know more? Contact us with your requirements, and we'll get right back to you.
Multiple puzzles, greater than the sum of their parts. That's the beauty of samurai sudoku — five regular grids interlinked to make one gigantic puzzle. Now you can enjoy two hundred of those incredible puzzles in our latest release: The Jumbo Book of Samurai Sudoku.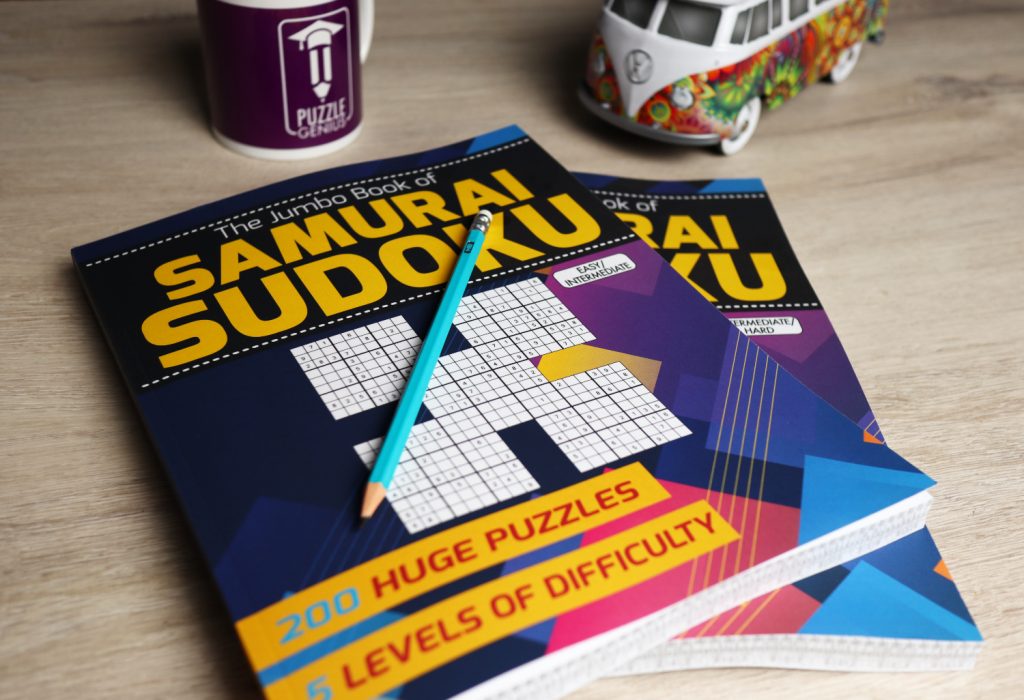 We love sudoku. Don't tell anyone, but we think it might be our favourite puzzle of them all. There is an elegance to its simplicity that's hard to beat. Even so, sometimes you want a bit more of a challenge than the classic 9x9 grid.
That's why we love sudoku variations. And it's why, alongside our popular 16x16 sudoku books, we are delighted to announce The Jumbo Book of Samurai Sudoku.
If you've never tried this multi-sudoku game before, you are in for a treat. Every grid is like five sudokus for the price of one.
The interaction between the grids adds a new level of nuance and ramps up the challenge. If you enjoy sudoku but find you get to the end of a regular puzzle too quickly, this is definitely the book for you.
Like all Puzzle Genius books, we've packed these new editions with our popular features:
200 samurai sudoku puzzles. That's the equivalent of one thousand regular grids!
Just one puzzle per page. Finding room to write in candidates should never be part of the challenge. That's why we made the grids huge, so you can concentrate on the logic and not worry about how you'll fit in your notes.
Start and end times. We know many puzzlers like to solve against the clock, so we make it easy to keep track of your timings.
Complete solutions. Sure, you could check your completed grid manually, but who wants to deal with that? We put solutions for every puzzle in the back, making it a doddle to check off your result.
Bonus puzzles. We love logic puzzles as much as you, which is why we've included some extras at the end. You'll find killer sudoku and suguru puzzles included, to extend the fun.
Naturally, all of this is wrapped up in a beautiful volume that you'll be proud to own or to gift.
There are two editions of The Jumbo Book of Samurai Sudoku: Easy to Intermediate, and Intermediate to Hard. Both are available on Amazon. We hope you enjoy them!