Multiple puzzles, greater than the sum of their parts. That's the beauty of samurai sudoku — five regular grids interlinked to make one gigantic puzzle. Now you can enjoy two hundred of those incredible puzzles in our latest release: The Jumbo Book of Samurai Sudoku.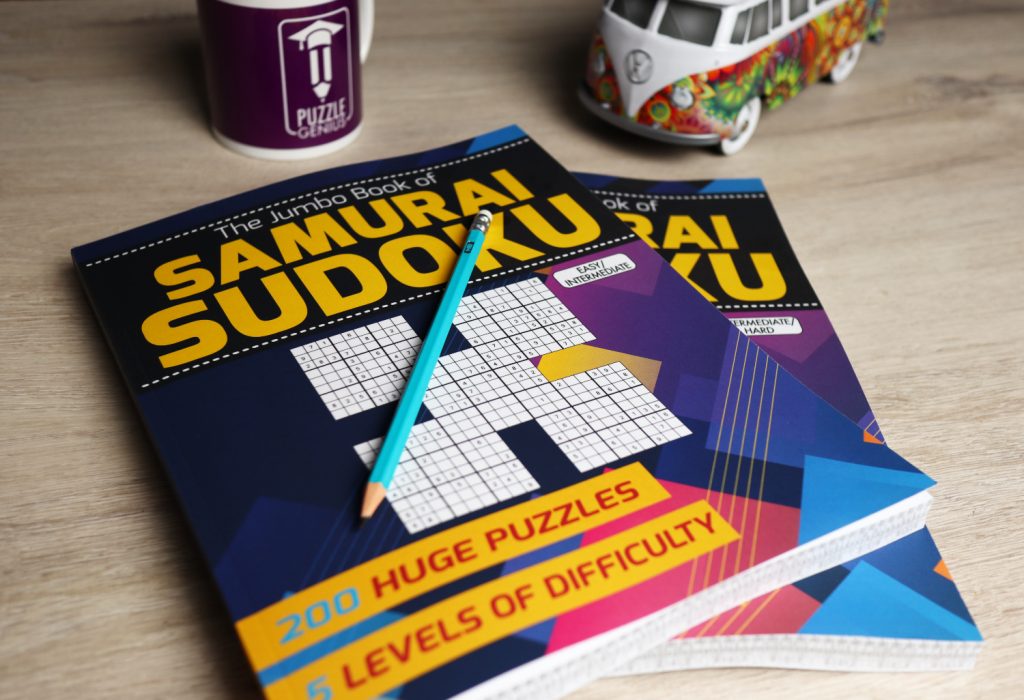 We love sudoku. Don't tell anyone, but we think it might be our favourite puzzle of them all. There is an elegance to its simplicity that's hard to beat. Even so, sometimes you want a bit more of a challenge than the classic 9x9 grid.
That's why we love sudoku variations. And it's why, alongside our popular 16x16 sudoku books, we are delighted to announce The Jumbo Book of Samurai Sudoku.
If you've never tried this multi-sudoku game before, you are in for a treat. Every grid is like five sudokus for the price of one.
The interaction between the grids adds a new level of nuance and ramps up the challenge. If you enjoy sudoku but find you get to the end of a regular puzzle too quickly, this is definitely the book for you.
Like all Puzzle Genius books, we've packed these new editions with our popular features:
200 samurai sudoku puzzles. That's the equivalent of one thousand regular grids!
Just one puzzle per page. Finding room to write in candidates should never be part of the challenge. That's why we made the grids huge, so you can concentrate on the logic and not worry about how you'll fit in your notes.
Start and end times. We know many puzzlers like to solve against the clock, so we make it easy to keep track of your timings.
Complete solutions. Sure, you could check your completed grid manually, but who wants to deal with that? We put solutions for every puzzle in the back, making it a doddle to check off your result.
Bonus puzzles. We love logic puzzles as much as you, which is why we've included some extras at the end. You'll find killer sudoku and suguru puzzles included, to extend the fun.
Naturally, all of this is wrapped up in a beautiful volume that you'll be proud to own or to gift.
There are two editions of The Jumbo Book of Samurai Sudoku: Easy to Intermediate, and Intermediate to Hard. Both are available on Amazon. We hope you enjoy them!