What's your favourite kind of puzzle? Are you a sudoku aficionado? Perhaps it's mazes that float your boat? Or maybe a bit of word search gets you going? Can't decide? Then have we got the book for you!
One of the things Puzzle Genius is known for is the generous size of our puzzle books. Even our popular Pocket range pushes the boundaries of the page to bring you the biggest grids possible in the compact space. Our Jumbo range of books are Jumbo in every sense – big puzzles and lots of them.
But sometimes you need to go even bigger. Which is why we are excited to announce our new Large Print puzzle book range.
Our Biggest Puzzles Ever
We're kicking off with two extremely popular puzzles: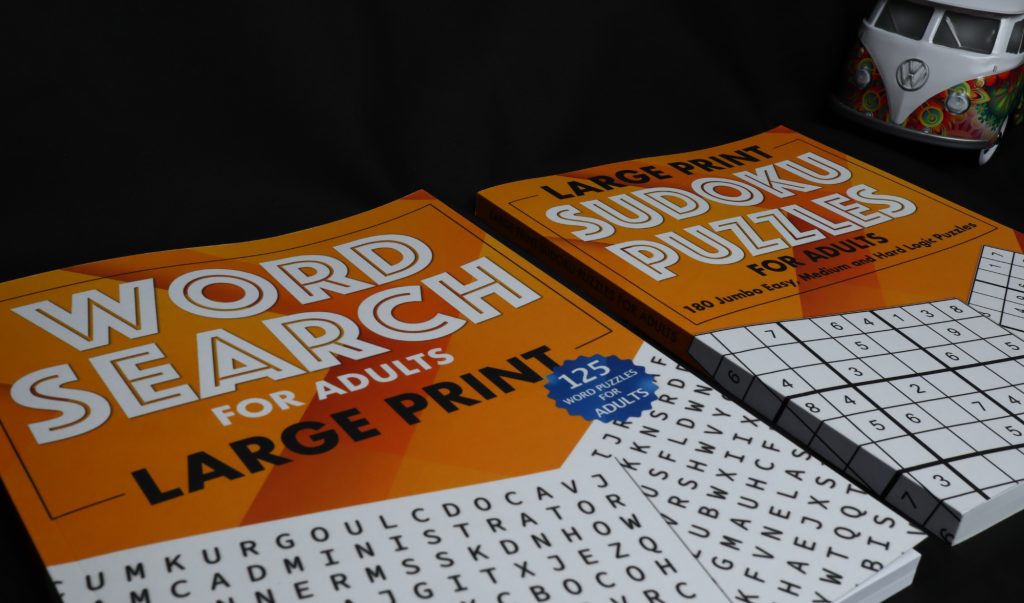 Both books are 8"x10" format, and they both push the size of the puzzles to new limits. They are ideal for anyone who needs bigger text – whether that be due to less than perfect vision, tired eyes, or quite simply a preference for easier-to-read letters and numbers.
Puzzle Genius Quality
Just because we made the puzzles bigger, doesn't mean we cut any corners. You'll find both books have bee meticulously crafted to our usual high standards, beginning with the puzzles themselves.
Large Print Sudoku Puzzles offers no fewer than 180 brand new grids, over three levels of difficulty (60 each of Easy, Medium, and Hard). Plus we've put a couple of bonus puzzles at the end, to extend your enjoyment and mix things up a little. Of course, full solutions are included for every puzzle.
Word Search for Adults: Large Print is filled with 125 classic word search puzzles, comprising a total of 3000 words to find! Each puzzle is themed, by topic or letter groupings, offering a wide variety of challenges. And because we love word puzzles as much as you do, we've added some bonus Word Finder puzzles at the end of the book. Naturally, you'll find a complete set of solutions in the back, too.
Out Now
Both books are available now:
We are delighted to announce the publication of two new books in the popular Felix Linklater Presents… series:
Giant Edition
We've taken everything you love about Felix's Very Hard Killer Sudoku book and super-sized it. We shut Felix in the basement and told him he couldn't come out until he had prepared a whopping 600 brand new difficult and very difficult killer sudoku puzzles. Then we put them into an 8.5x11" book to maintain the large grid size we know you love.
Pocket Edition
Bigger isn't always better; whilst we know our big grids are popular, we also know how important it is to have a puzzle at hand wherever you are. That's why when we finally let Felix out of the basement, it was on the condition he supplied another 100 puzzles for a pocket edition.
At 4x6", this small but mighty book slips into any pocket or purse, so you never need be without your favourite logic puzzle.
Regular Edition
The two new sizes join the regular edition, meaning there is a size to suit every occasion. And with unique puzzles in each of the three volumes, you can be certain to find a fresh challenge every time.
Out Now
The new books join the rest of the Felix Linklater Presents series (which includes regular sudoku, samurai sudoku, and 16x16 sudoku) and are available now, from Amazon:
Killer Sudoku! We love it. You love it. It's one of our most popular puzzles. And now it's joining our Jumbo range. Introducing The Jumbo Book of Killer Sudoku.
Who Says You Can't Have Quality And Quantity?
Here's the lowdown on what makes this brand new two-volume set so fantastic:
600 Puzzles. Yes you read that right. Each volume contains a whopping 600 killer sudoku puzzles!
Six Levels. Choose from Easy to Intermediate, or Intermediate to Hard. One hundred puzzles per level means you'll always find something pitched just where you want it.
Big grids. Our Jumbo series is big in every way. Big grids on big pages, and loads of them. Fitting in notes and candidates should never be part of the challenge, which is why we've made our grids so roomy.
Bonus puzzles. Because we love puzzles as much as you do, we've added some extras at the end. You'll find some regular sudoku grids plus a selection of suguru puzzles as well.
Full solutions. Checking your completed grid takes seconds when you have full solutions at the back.
The Jumbo Series Just Got Bigger
The Jumbo Book of Killer Sudoku is part of our wider Jumbo series. Fancy something different? We've got you covered, with Jumbo 16x16 Sudoku, and Jumbo Samurai Sudoku as well.
Out Now
Both volumes are available now from Amazon:
We all deserve a little luxury in our lives. Whether it be a velvety fine wine, a long soak in a silky bubbly bath, or a tasting menu in a Michelin starred restaurant, who doesn't want to indulge themselves a little every now and then? Indeed now more than ever it feels like enjoying some 'me time' is perfectly justified.
That's why we are so delighted to present our latest sudoku puzzle book series — Luxury Logic Puzzles.
This four-volume set epitomises our mission: to create puzzle books for people who love beautiful things.
From the classic, elegant covers to the richly decorated pages, everything about these books is simply gorgeous. We are even making the whole set available in hardcover editions, offering unrivalled refinement as well as protection for the precious grids within.
Of course we also included all the other features that make every Puzzle Genius book a beautiful object:
Large grids, because space is the ultimate luxury. We believe the challenge of sudoku should be in solving the puzzle, not trying to write tiny candidates and answers.
Splendidly decorated pages, with a delightful and classic theme uniting the series.
Hard and very hard puzzles for the discerning and practised puzzler who doesn't want to waste space on easy grids.
Extra puzzles in every volume to add a little spice and variety.
Complete solutions to make checking answers a joy rather than a chore.
There are four books in the series, and each one is available in classic paperback as well as hardcover editions:
Today we are delighted to announce not just a new book, but a whole new series. Specially designed for the most ardent and experienced puzzler, the Felix Linklater Presents collection is launching with four volumes of very difficult puzzles.
Lucy Baker, our website editor, caught up with Felix himself to get all the juicy details on this brand-new series.
Lucy: Felix, hi! Perhaps you could start by introducing yourself?
Felix: Hello! Sure. I'm Felix Linklater, and I'm the senior logician and puzzle editor here at Puzzle Genius. I'm essentially in charge of selecting the puzzles that make it into all of our books.
Lucy: So it's fair to say you know your way around a logic puzzle?
Felix: Logic puzzles are literally my life. When I'm not working hard on a set of puzzles for a new book, I'm usually found solving them.
Lucy: That's why you get called logic-meister in chief around the office.
Felix: I take that as a compliment.
Lucy: Rightly so! We're all puzzle lovers here. So tell me, what was the inspiration behind the new series, Felix Linklater Presents?
Felix: Since our inception, Sudoku has been one of our most popular puzzles. Not just the regular game, but the variations too. Particularly Killer Sudoku. We've always strived to cater to a wide audience, publishing editions covering levels from beginner to advanced. But we wanted to create a new series of books that was aimed squarely at the advanced puzzle solver — the sort of person who skips ahead to the most difficult puzzles in a book. People like us, in other words.
Lucy: So you wanted to make something like our Pocket Sudoku Extreme series?
Felix: Yes, exactly. That's a great series and I'm very proud of it. But we wanted to go beyond the pocket format. That's why this new series was born. We've put hard and very hard puzzles into a medium-format edition and imbued it with everything that makes Puzzle Genius books so beloved. These volumes are around six by nine inches, or around 15 by 23 centimetres. It's a size that's much easier to carry around than our Jumbo editions, but it still gives us the space to publish the bigger variants like 16x16 Sudoku.
Lucy: And Samurai Sudoku, which is one of my favourites. What else is different about these books?
Felix: Firstly, and most importantly, the puzzles are hard. We've labelled them as one and two stars, but it's important to know that even the one star level is at the top end of anything we've published before. These are definitely not beginner grids. For the Samurai Sudoku and 16x16 Sudoku books we've put a single grid on each page. We all know how important it is to leave room to note down candidates and exclusions.
Lucy: Yes, we always say that writing in the grid should never be part of the challenge. If you want to get into precision pencil work, get a colouring book.
Felix: Right. Our job is to present the best possible puzzle in the best possible way, and everything we do is geared around that. Then we add some bonus puzzles, because who doesn't like an extra challenge? It's a great way to discover new variations that you perhaps haven't tried before. And of course we include solutions for every puzzle in the back of the book.
Lucy: Again, of a decent size. Nobody wants to have to go find a magnifying glass to check their answers. What books is the series launching with?
Felix: We've launched with four volumes: Very Hard Sudoku, Very Hard Killer Sudoku, Very Hard Samurai Sudoku, and Very Hard 16x16 Sudoku.
Lucy: Do you have a favourite?
Felix: That's like asking me to pick a favourite child. I might have one, but I'd never admit it! Seriously though, we've put an enormous amount of work into these books, selecting excellent puzzles and presenting them in the best way — exactly as we do for every puzzle book we publish.
Lucy: Well the books look amazing, and I'm not just saying that because I work here! I've already sneaked a couple home and have been working my way through them. They're not for the faint-hearted!
Felix: Thank you. I really hope people get as much enjoyment from these new puzzles as we have.
Out Now
All four volumes of the Felix Linklater Presents series are available now, from Amazon:
Multiple puzzles, greater than the sum of their parts. That's the beauty of samurai sudoku — five regular grids interlinked to make one gigantic puzzle. Now you can enjoy two hundred of those incredible puzzles in our latest release: The Jumbo Book of Samurai Sudoku.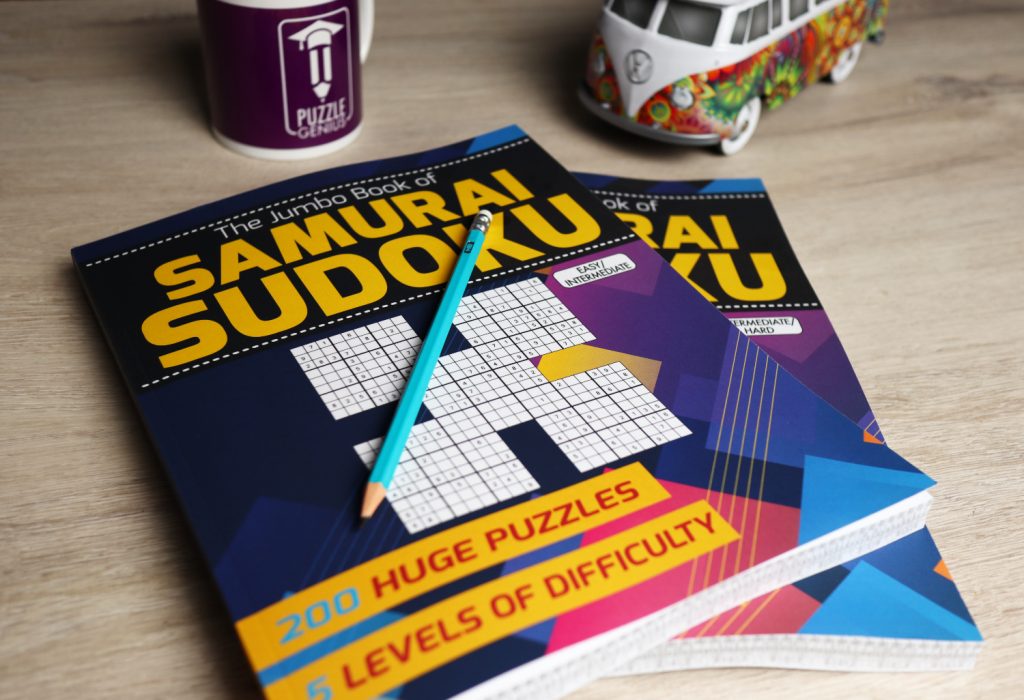 We love sudoku. Don't tell anyone, but we think it might be our favourite puzzle of them all. There is an elegance to its simplicity that's hard to beat. Even so, sometimes you want a bit more of a challenge than the classic 9x9 grid.
That's why we love sudoku variations. And it's why, alongside our popular 16x16 sudoku books, we are delighted to announce The Jumbo Book of Samurai Sudoku.
If you've never tried this multi-sudoku game before, you are in for a treat. Every grid is like five sudokus for the price of one.
The interaction between the grids adds a new level of nuance and ramps up the challenge. If you enjoy sudoku but find you get to the end of a regular puzzle too quickly, this is definitely the book for you.
Like all Puzzle Genius books, we've packed these new editions with our popular features:
200 samurai sudoku puzzles. That's the equivalent of one thousand regular grids!
Just one puzzle per page. Finding room to write in candidates should never be part of the challenge. That's why we made the grids huge, so you can concentrate on the logic and not worry about how you'll fit in your notes.
Start and end times. We know many puzzlers like to solve against the clock, so we make it easy to keep track of your timings.
Complete solutions. Sure, you could check your completed grid manually, but who wants to deal with that? We put solutions for every puzzle in the back, making it a doddle to check off your result.
Bonus puzzles. We love logic puzzles as much as you, which is why we've included some extras at the end. You'll find killer sudoku and suguru puzzles included, to extend the fun.
Naturally, all of this is wrapped up in a beautiful volume that you'll be proud to own or to gift.
There are two editions of The Jumbo Book of Samurai Sudoku: Easy to Intermediate, and Intermediate to Hard. Both are available on Amazon. We hope you enjoy them!
Mazes Made Better
Mazes — who doesn't love them? Okay, maybe Harry Potter, given his history with labyrinths was not a happy one. Adolescent wizards aside though, most folk love the challenge of a good maze. But finding good mazes hasn't always been easy.
Until now.
Introducing Mazes for Smart People — our brand new puzzle book with a difference!
The Puzzle Genius logicians are proud to present our stellar collection of 100 mind-bending mazes that will challenge even the most gifted pathfinder. There are four different types of maze, each split over five different levels of difficulty. At just one huge maze per page, these are puzzles you can literally lose yourself in.
Brain Workout
Mazes are a very different kind of puzzle to sudoku and its many variants. Finding a solution exercises regions of the brain that don't tend to get much of a workout from number-based puzzles.
In fact according to some studies, solving mazes activates a large area of the brain from the visual to parietal regions. Working these puzzles even activates subcortical and cortical motor areas, which are normally associated with movement and coordination.
In other words solving mazes on paper gives your brain the same kind of workout it would get from walking through a physical labyrinth!
Feature Rich
As with all of our books, we've packed Mazes for Smart People with features you'll love.
Five levels of difficulty. Whether you want something a little easier to pass the time, or a harder challenge to stretch your brain to the limit, you'll always be able to find a maze pitched at just the right level.
Four different maze types. From simple rectangles to unusual shapes, including some with added holes and blockers, you'll love beating a path through the differing forms.
One huge maze per page. Forget the mazes of your childhood — these are gigantic beasts! And of course we put as much effort into making our pages beautiful as we do making our mazes devilishly difficult.
Solutions included. Listen, we know you're smart, but sometimes even the best pathfinder needs a little helping hand. So we've included solutions at the back just in case you get stuck.
A Great Escape
Finding your way out of a labyrinth is a great way to escape from the stresses and strains of life. Mazes are easy to start, and hard to finish. Totally engrossing, completing one provides an unrivalled sense of satisfaction. And as the neuroscientists have shown, they are good for your brain.
Mazes for Smart People is suitable for virtually any age, but be warned that even the easiest levels are not for the faint-hearted. Grab your copy now, from Amazon.
365 Days of Suguru Goodness
We are delighted to introduce the latest addition to our A Year of... range — Suguru! A must-have for suguru-lovers, the two volumes in this series each offer a full twelve months of quality puzzles.
Suguru is one of our favourite logic puzzles. It's so easy to learn (just one simple rule), and totally engrossing. Like sudoku, there's no math, and like killer sudoku there's a lot of inference involved in solving the harder grids. It's no wonder that suguru is so popular. And now you can have a brand new, quality suguru puzzle to solve every single day for a year.
A Year of Suguru joins our existing Pocket Suguru series — five gorgeous volumes each containing one hundred puzzles over ten levels.
Just like its smaller stablemate, A Year of Suguru is packed with classic Puzzle Genius features:
Generously sized grids that offer plenty of space for jotting down candidates.
Start and end time boxes for those who like to solve against the clock.
Five levels of difficulty in each of the two volumes (see below).
Levels rotate daily to keep the challenge fresh and interesting.
Bonus puzzles (16x16 sudoku and killer sudoku).
Complete solutions to save time checking answers.
Like all the books in our Year of... range, these volumes are year agnostic — you can begin on any day of any year and have a full twelve months of puzzles ahead of you.
There are two editions of A Year of Suguru available from Amazon: Easy/Intermediate, and Intermediate/Hard. So whatever your level of experience, you'll find puzzles to suit you and stretch you.